Banana Walnut Oat Muffins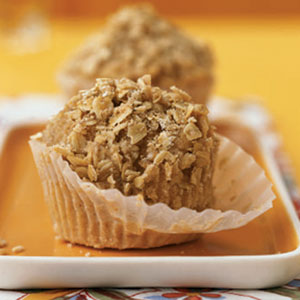 I fail miserably in baking cakes, for some reasons my cakes never turn out well but I bake darn good muffins. I've tried several with and without sugar. Obviously, muffins with sugar are awesome and tasty but those without sugar are healthier. For today, I'll share one of my favourite recipe with sugar of cause. You could always use soufle cups instead of muffin tins, it's easier to store too.
Ingredients
1 c. sifted all purpose flour
1/2 c. sugar
2 1/2 tsp. baking powder
3/4 tsp. salt
1/4 tsp. soda
3/4 c. quick rolled oats, uncooked
1 egg, beaten
3 tbsp. shortening, melted
1/2 c. milk
1/2 c. well mashed ripe banana
1/3 c. walnuts
Directions
Preheat oven to 400 degrees.
Grease muffin tins. sift flour together with sugar, baking powder, salt and soda into a bowl. Stir in oats. Add remaining ingredients. Stir only until dry ingredients are moistened.
Fill greased muffin tins 2/3 full. Bake at 400 degrees for 20 minutes.
Serve hot. Makes 12 medium size muffins.
Recipe courtesy of cooks.com