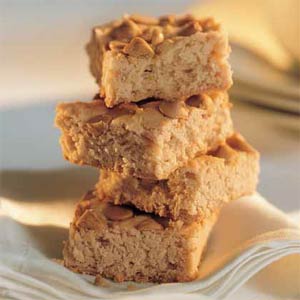 This is one of my most favorite dessert and I always request my mom to baked it for me on weekends…  It's a great dessert to be enjoyed at picnics, family gatherings and such. Great texture — crisp on the outside, moist and chewy on the inside. Try it 🙂
Ingredients:
For Base:
1/4 cup unsalted butter, room temperature
1/2 cup granulated sugar
1/2 cup dark brown sugar, packed
2 eggs
1/2 tsp vanilla
1 ¼ cups all purpose flour
1/2 tsp baking soda
1/2 tsp salt
For Butterscotch:
1/2 cup unsalted butter
1/2 cup sugar
1 cup dark brown sugar, packed
1/2 cup golden corn syrup
1/4 cup water
1/2 tsp salt
1 cup walnut pieces
3/4 cup unsweetened coconut
1/2 cup whipping cream
2 tsp vanilla extract
3/4 cup chocolate chips
Method:
1. Preheat oven to 350° F and grease and line bottom of an 8-inch square pan with parchment paper. In a bowl, cream butter and sugars together. Add eggs and vanilla and beat until fluffy. In a separate bowl, combine flour, baking soda and salt. Add to butter mixture and stir until evenly blended. Spread batter into a prepared pan and bake for 20 to 25 minutes, until an even golden brown. Set aside to cool.
2. In a sauce pot, melt butter over medium heat. Stir in sugars, corn syrup, water and salt and increase heat to medium-high. When mixture reaches a boil, stir in walnut pieces and coconut. Simmer for 7 minutes, stirring often (mixture will become thick and darker in color). Remove from heat and stir in cream and vanilla (watch for steam). Pour butterscotch over base and sprinkle chocolate chips. Bake for 13 to 16 minutes, until bubbling around the edges. Allow to cool before cutting into squares or bars. Do not refrigerate.
3. Butterscotch Bars will keep up to 3 weeks in an airtight container.
Source : Anna Olson recipes