Beauty is on the inside (Yeah, right!)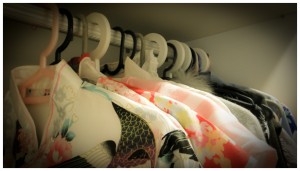 Yes, you read that right! I'm sure there are many of you who think that it doesn't matter how a girl looks, it is the inside that matters. Well, unfortunately you are only half right. Sorry to break your bubble, but if you ask any guy, frankly he will agree that first impression counts.. a lot.
Don't get me wrong. I am not condoning girls who only care about appearances and on the inside they're real bitches, but what I am trying to say is that as women, you need to care about your appearance too. Don't ever in your wildest dream think that a hot guy will look at someone who is sloppy, wears baggy pajama-like clothes everywhere, with unkempt hair and not a shred of care about using a single ounce of makeup or any beauty products. Think about it. Would you even look at a guy if he was like that?
I think it is essential that women care about how they present themselves. You don't need to wear truckloads of makeup or dress skimpily and sexily, but putting some effort into looking good will get you in the good books of that guy you've been eyeing – well, at least enough to get him to talk to you. It doesn't matter if you don't look like a supermodel, you need to at least try to put your best assets forward and hide what you don't like.
For starters, here are some tips to get you started:
Skincare. No one likes to touch a crater face. If you have an acne problem, seek a skin specialist. It may hurt your wallet wee bit but at least you know where to start instead of trying out all the possible products on the shelves of random pharmacies. I've also learned the hard way that you need to have a standard range of skincare products from young (don't wait till you see signs of aging) such as facial wash, toner, moisturizer and preferably some eye serum. Especially those who enjoy late nights – you want to look fresh the next day, not like an undead zombie straight out of the crypt.
Haircare. Don't hide your face under all that hair. And don't just let it grow to the floor and tie it up in a messy pony just for convenience sake either. If you're not sure what suits you best, consult a hair stylist. Don't just visit the nearest barber for a haircut. The hair is the crown of a woman. It makes an overall difference in how you look.
PJs are only for sleeping. If you think that you're fat and you try to hide it all under some baggy clothes, you are sorely in need of another mindset. Baggy clothes will only enhance your largeness and make you look sloppy. Dress neatly and don't just stick to the usual dose of jeans and a tee. If you're bottom heavy, wear fitting (not skintight!) pants and a top that is bright/patterned/frilled; something that brings the eye to the top. If you're top heavy, wear vertical lines to look slimmer on top. These are only some tips; try out other combinations to find the perfect blend. Don't be afraid to try wearing skirts. Just find a comfortable length that will show off your curves the right way.
Shoes. Slippers may be fine for the beach but I've seen girls who wear flip-flops everywhere; from shopping malls to pasar malams and even at bars. It is fine to dress down once a while but trust me, guys look at your feet more than you think. They will notice if your shoes are ratty or dirty, with scuff marks or just the same ol' thing everyday.
I can probably go on, but what I am trying to say is that as women, we should take pride in how we present ourselves. It is a shame that people are shallow to judge us by how we look, but if you think you have a heart that is worth knowing, you got to present the outside well too. Think of it as a nicely wrapped present to surprise what the actual gift is inside.